SAFE Banking Town Hall: SAFE CAN'T WAIT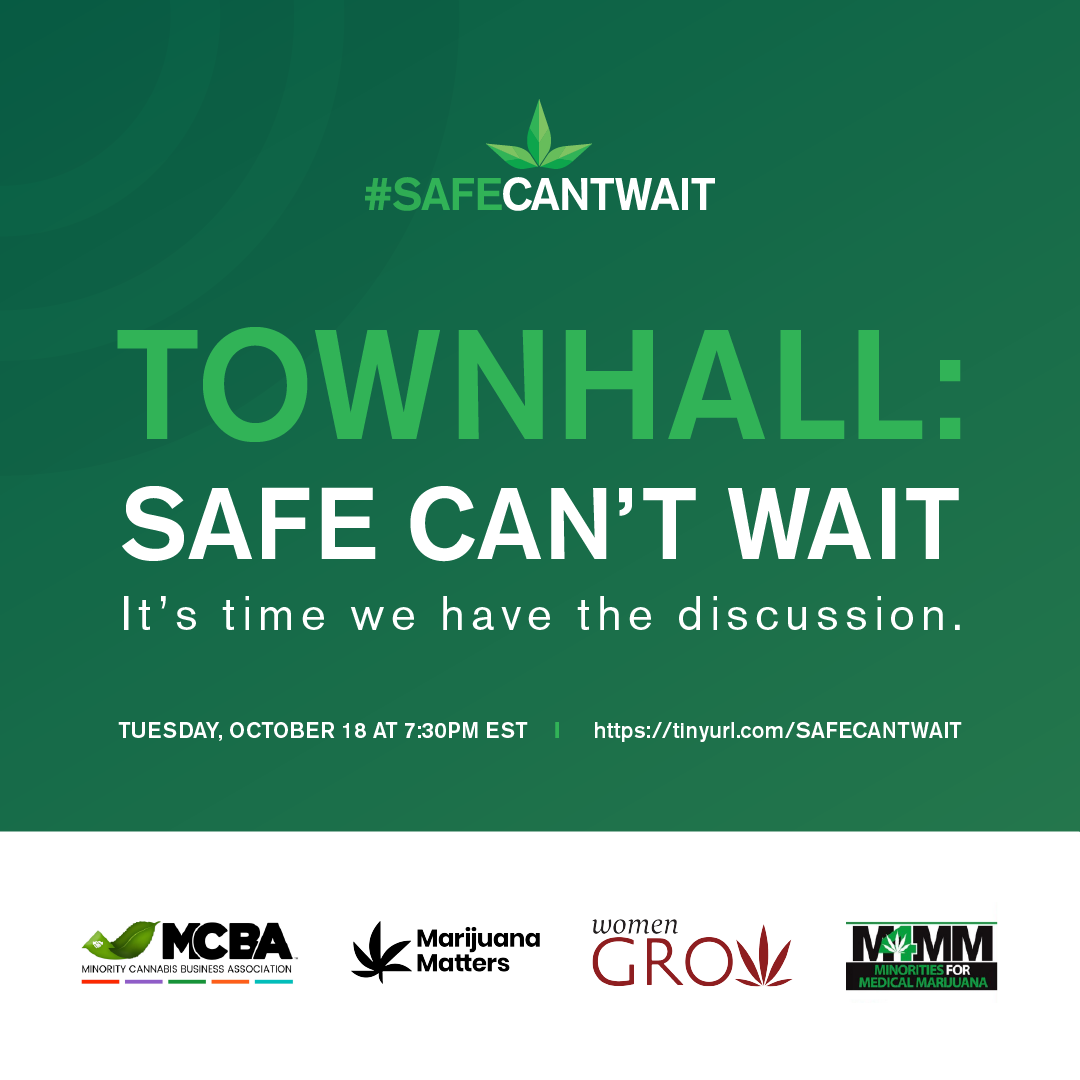 #SAFECantWait campaign organizers to host a virtual town hall to discuss the importance of the SAFE Banking Act
Advocacy organizations Marijuana Matters, Minority Cannabis Business Association (MCBA), Minorities for Medical Marijuana (M4MM), and Women Grow will host a virtual town hall on Tuesday, October 18th at 7:30pm EST to discuss the importance of passing the Secure and Fair Enforcement Act (SAFE Banking Act) as the 117th Congress enters its final months.
We agree that while comprehensive reform is needed and that inequity must be addressed, we must prioritize policy that is plausible to pass rather than lose an opportunity to advance reform now. SAFE Banking allows small, minority- and women-owned cannabis businesses and non-profit organizations an opportunity to access banking and financial solutions to move their operations forward. The SAFE Banking Act has overwhelming, bipartisan support and is the best opportunity to get something done on federal cannabis reform this year. Passing legislation such as SAFE Banking would help reduce the public safety risk, improve equity in the cannabis industry, and prevent greater consolidation of the industry.
The need for Congress to reform our national cannabis laws has only grown over the past decade, and there has been growing momentum including President Biden's recent announcement to pardon all federal simple marijuana offenses and initiate review to deschedule cannabis.
The Town Hall will be held via zoom and streamed LIVE on the official #SAFECantWait platforms. Registration is now open, please visit  https://bit.ly/3MlR3xM to RSVP.
WHO: Courtney Davis, Executive Director of Marijuana Matters; Kaliko Castille, Board President of MCBA; Roz McCarthy, Founder of M4MM; Gia Moron, President of Women Grow
WHAT: Virtual Town Hall: #SAFECantWait – REGISTER HERE 
WHEN: Tuesday, October 18, 2022, 7:30PM EST
WHERE: Zoom – The event will be live streamed on the #SAFECANTWAIT platforms: Facebook, LinkedIN and Twitter.