Announcing our New Communications Manager!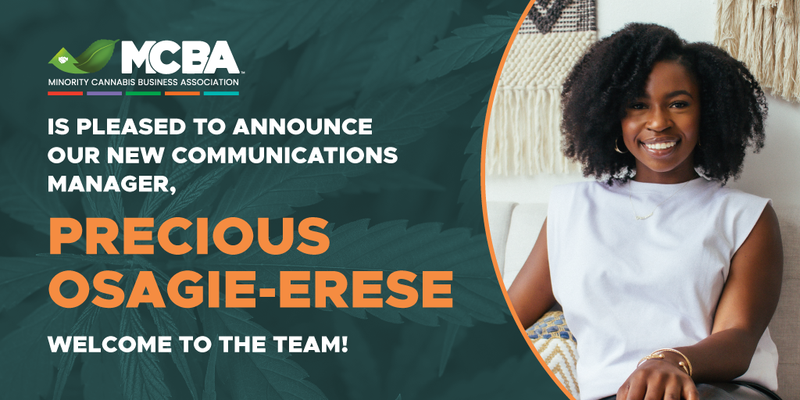 Our team at MCBA is expanding and we're thrilled to welcome Precious Osagie-Erese as our new communications manager!  Precious comes from a merged background of journalism, political communications and cannabis entrepreneurship. We're beginning to take a more strategic path in alerting our members, advocates, lawmakers and industry stakeholders on the work that MCBA is doing to ensure equity remains at the forefront of the conversation as the cannabis industry expands.
Here's a message from Precious on here new position:
Greetings MCBA Family,
Words can hardly express how hype I am to be a part of an organization that is actually doing the work for minority cannabis operators. I'm excited to get to know you, but also want to give you the rundown on me. I'm from East Orange, New Jersey and I  attended Howard University to study communications followed by Columbia University to receive my masters in journalism. I've always had a deep passion for telling stories and amplifying voices of those who have been marginalized through through multi-media platforms.
As a cannabis entrepreneur myself, I've come to experience firsthand the several barriers to entry that literally feels like you're sinking into quicksand. Dramatic? Yes, but it's very true. At that time of my journey, I would consistently turn to MCBA for information and tools to help me navigate this industry. The more I learned, the more I came to realize that this entire industry desperately needed a facelift–and it started with advocacy. I want change. I want to see more people of color take advantage of this industry as it has taken advantage of them in the past. I want to see a full on movement to empower social equity programs so that they can actually work and give many people the opportunity to build in this industry.
One thing I knew for sure was that true change only happens through collaborative efforts. I saw the position for the communications manager here and I quickly hopped on it. My goal is to merge my background in comms with my experience in the cannabis industry to continue to spotlight the work being done to push for an equitable industry.
And so the fun begins!
Looking to connect, shoot me an email to communications@minoritycannabis.org