MCBA Announces 2nd Annual 'Diversity Scholarship' in Partnership with Cannabis Conference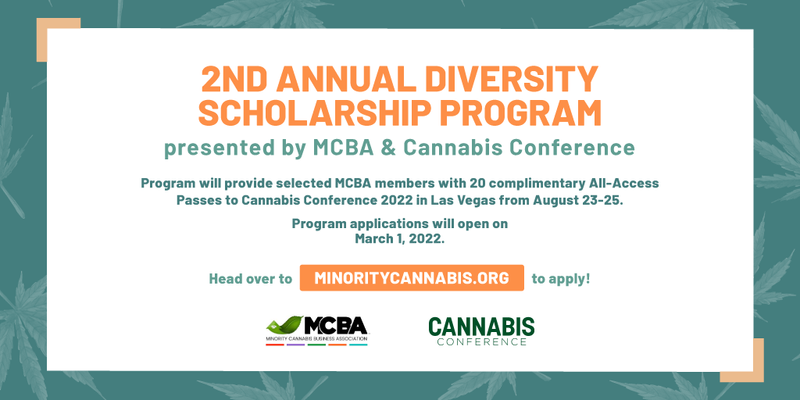 March 1, 2022 –  Cannabis Conference (produced by Cannabis Business Times, Cannabis Dispensary and Hemp Grower media brands) announces today that it will continue a joint partnership with Minority Cannabis Business Association (MCBA) to help minority cannabis entrepreneurs access networking and education opportunities to grow and support their business. The 2nd annual Cannabis Conference Diversity Scholarship Program will provide selected MCBA members with 20 complimentary All-Access Passes to Cannabis Conference 2022.
In addition to the Diversity Scholarship Program, Cannabis Conference is offering a 20% registration discount to all MCBA members.
The Diversity Scholarship Program is part of Cannabis Business Times, Cannabis Dispensary and Hemp Grower media brands' 'Game Changer' Partnership with MCBA. In addition to the scholarship, the media brands will provide nearly $100,000 in annual print and digital MCBA-related promotions to support this pioneering organization dedicated to serving the specific needs of minority cannabis entrepreneurs and their communities.
"It's important to facilitate advancement opportunities for minorities, who have been disproportionately affected by the war on drugs," Cannabis Conference Editorial Director Noelle Skodzinski said. "MCBA does essential work to promote equality and diversity in the cannabis industry by working toward fair policies and regulations and creating educational and networking opportunities. We're proud to be assisting in that effort for a second year at Cannabis Conference and within our media brands."
"The Diversity Scholarship Program allows us to further empower minority operators and connect them to caliber networking and educational events that are often inaccessible. We are once again excited to partner with the Cannabis Business Times, Cannabis Dispensary, and Hemp Grower brands in providing this invaluable resource to minority cannabis businesses and furthering our mission to see an equitable cannabis industry that we can all be proud of." said MCBA Executive Director Amber Littlejohn said.
Diversity Scholarship Program applications will open on March 1, 2022. To apply for the scholarship program, please click here.
About Cannabis Conference Cannabis Conference 2022, presented by the award-winning Cannabis Business Times, Cannabis Dispensary, and Hemp Grower media brands, is the leading educational provider for plant-touching businesses in the legal cannabis and hemp markets. The three-day event will take place at Paris Las Vegas Hotel & Casino in Las Vegas, Nev., on Aug. 23-25, 2022. The Cannabis Conference exhibition hall will feature 230+ industry-leading technologies, solutions and services for the professional cannabis cultivator and retail businesses. For more information, visit www.CannabisConference.com.