MCBA applauds introduction of Small Business Administration bills spurred by recent MCBA congressional testimony
For immediate release:
MCBA applauds introduction of Small Business Administration bills spurred by recent MCBA congressional testimony 
Primary Press Contact: Shanita Penny, MCBA President
202-681-2889, shanita@minoritycannabis.org
Secondary Press contact, Jason Ortiz MCBA Vice President
860-639-8101, jason@minoritycannabis.org
Washington D.C.- The Minority Cannabis Business Association celebrated a victory Friday, applauding Congresswoman Nydia Velazquez and others who introduced multiple bills to expand access to small business administration resources for existing and aspiring cannabis entrepreneurs, with a clear focus on achieving equity as laid out in MCBA's model policies. The introduction of these bills comes on the heels of MCBA's congressional lobby day, numerous congressional briefings and congressional testimony by MCBA President Shanita Penny.
"I am pleased to see our efforts furthered through actionable public policy. We look forward to working with Congresswoman Velazquez to make this bill law." MCBA President Shanita Penny
"This bill is a clear indication of the strength of our movement to impact legislation at the local, state, and federal levels. Equity in cannabis has become the industry standard from Illinois to D.C. and we're just getting started" said MCBA Vice President and Policy Committee Chair Jason Ortiz
Chairwoman Nydia Velázquez (D-NY), introduced H.R.3540, Ensuring Safe Capital Access for All Small Businesses Act, which would allow marijuana businesses to access resources from the federal Small Business Administration (SBA). Those resources include microloans, disaster assistance and the loan guarantee program. Penny states, "in addition to support for small and disadvantaged businesses, social equity and economic empowerment programs throughout the country are depending on these resources to address and prevent predatory private lending and partnerships as program participants attempt to enter the cannabis industry with no access to institutional lending for capital."
"As our society continues to move the needle on this issue, we must recognize that legal cannabis businesses are often small businesses that fuel local economies and create new jobs," Velázquez said in a press release.
"That is why I am pleased to introduce legislation to extend affordable lending options to small businesses that operate in the cannabis space, while simultaneously recognizing the structural disadvantages facing entrepreneurs from communities of color," she said.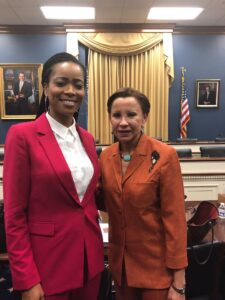 Congresswoman Nydia Velazquez with MCBA President Shanita Penny
About the Minority Cannabis Business Association
Founded in 2015, the Minority Cannabis Business Association (MCBA) is the first 501(c)(6) not for profit business league created to serve the specific needs of minority cannabis entrepreneurs, workers, and patients/consumers. The MCBA represents more than 700 minority owned businesses, entrepreneurs, and patients from across the United States. Its 12-member board of directors is comprised of a diverse group of medical and legal professionals, cannabis industry veterans, and social advocates  from across the U.S. You can find more information about us at www.minoritycannabis.org.