MCBA Midterm Election Recap: Mixed Bag for Marijuana Legalization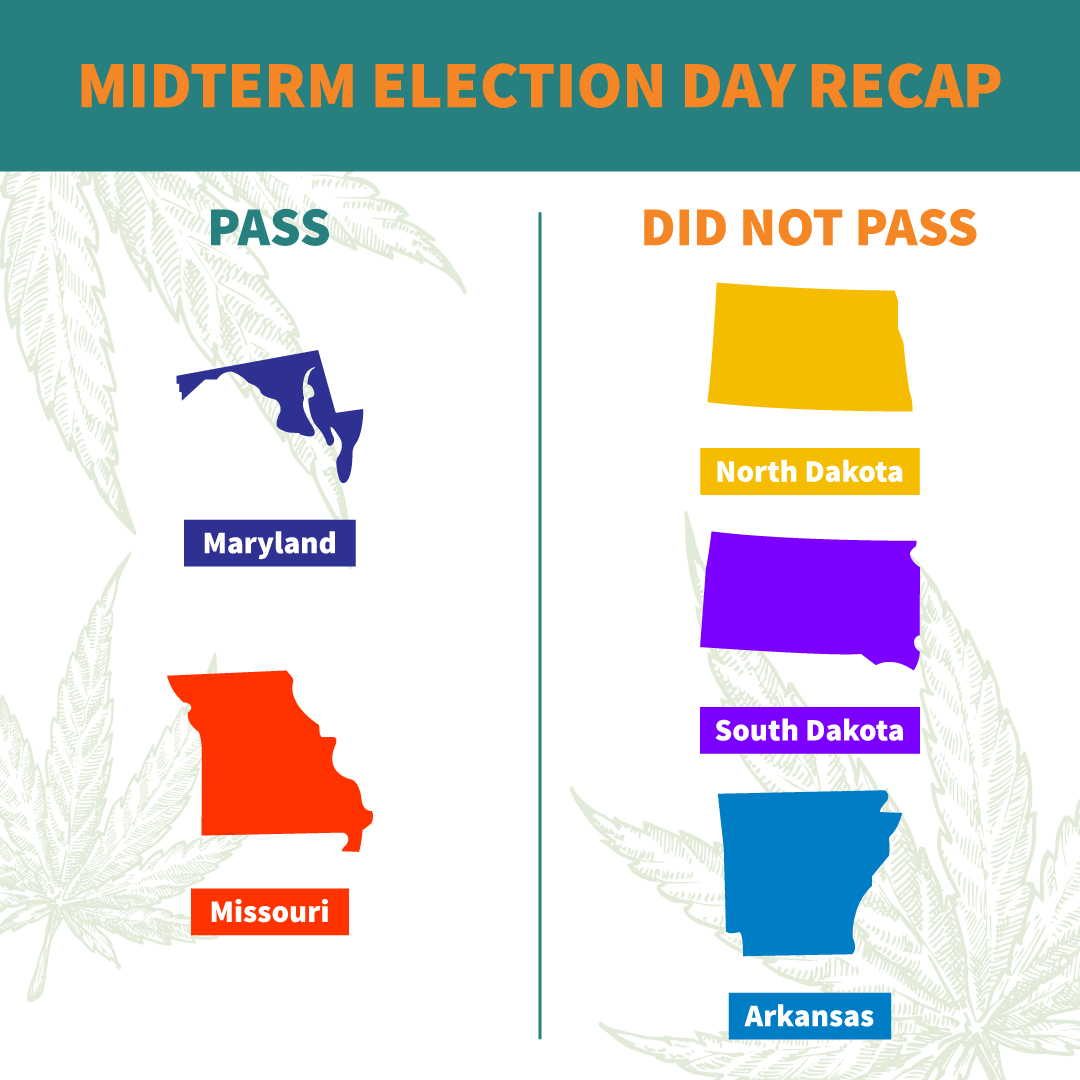 This midterm election, marijuana legalization and drug policy were on the ballot for several states. Arkansas, Maryland, Missouri, North Dakota and South Dakota set forth ballot initiatives calling on voters to either legalize cannabis, decriminalize marijuana possession or launch a regulated market to license cannabis businesses. 
Here's a breakdown of Tuesday night's results:
Maryland
Maryland voters passed Question 4 by a 65.5% to 34.5% margin that will launch an adult-use cannabis market, making it the 20th state to implement legalization reform. 
This doesn't come as a huge surprise as marijuana legalization has seen strong support from voters there. A poll from October by the Washington Post and the University of Maryland saw support at 74%. Maryland lawmakers now have the green light to set up the industry rules and regulations. Passage of the ballot question triggered legislation that will expunge marijuana related convictions, provide grants to better support minority and women-owned businesses in the cannabis industry, and remove criminal penalties for possession of 2.5 ounces or less of marijuana. Purchase and possession of 1.5 ounces of cannabis is now legal for those above the age of 21, and adults can grow up to two cannabis plants for personal use. Now all eyes are on how Maryland will ensure they build a fair and equitable market.
Missouri
This midterm election was full of very close races and Missouri gave us a nail biter. Missouri became the first mid-western state and the 21st state overall to approve adult-use cannabis reforms–by tighter margins. 53.1% of voters approved the initiative to legalize cannabis while 46.9% opposed. 
Amendment 3 will accomplish the following: 
Adults 21 and older will be able to purchase and possess up to three ounces of cannabis.

They can also grow up to six flowering marijuana plants, six immature plants and six clones if they obtain a registration card.

The initiative will impose a six percent tax on recreational cannabis sales and use revenue to facilitate automatic expungements for people with certain non-violent marijuana offenses on their records.

Remaining revenue will go toward veterans' healthcare, substance misuse treatment and the state's public defender system.

The Department of Health and Senior Services will be responsible for regulating the program and issuing licenses for cannabis businesses.

Regulators will be required to issue at least 144 microbusiness licenses through a lottery system, with priority given to low-income applicants and people who have been disproportionately impacted by drug criminalization.
The Dakotas + Arkansas
Meanwhile, marijuana opposition remained strong for voters in conservative states Arkansas, South Dakota and North Dakota. 
South Dakota voters rejected the proposal to legalize cannabis for adult use by a 53%-47% margin. It marks the second time voters in the state have rejected the reform. South Dakota voters had approved the legalization back in 2020 but the state Supreme Court ultimately ruled that the measure violated the state's single-subject rule on ballot initiatives. North Dakota had a similar tale with voters rejecting a measure to legalize by a 55%-46% margin. According to an MJBizDaily projection, an adult-use market in North Dakota could have generated up to $100 million during its first year of operation and up to $285 million in its fourth year. 
Arkansas, as the deep-red, conservative state had unfavorable odds and little support from cannabis advocates to legalize cannabis. That's mainly due to its lack of social equity provisions to support people of color who are eager to enter the adult-use industry. The ballot initiative also restricted home growing and did not allow expungement of past marijuana offenses.
Looking Ahead
MCBA was very pleased to see John Fetterman, the state lieutenant governor, bring in a huge win in Pennsylvania's race for an open Senate seat, defeating celebrity TV doctor Mehmet Oz. Fetterman has been consistently vocal on his plan to help "end the war on drugs by fighting to deschedule marijuana, expunge the records of those convicted of nonviolent marijuana offenses, and prevent the monopolization of this vibrant new industry." MCBA supported the Fetterman campaign by holding a Cannabis Industry Phone Bank in partnership with All-In Pennsylvania to help Fetterman get elected into the Senate.
After days of votes being counted and recounted, we're seeing a switch in control. The Republicans have taken the House of Representatives while the Senate narrowly clinched the Senate. 
What we can take away from this election is that cannabis reform can only take place with the right leaders in place to help reverse the harms caused from the War on Drugs and that campaigns that do not center Black and brown voices when crafting policy will find themselves not only having to guard against criticisms from prohibitionist but from allies inside the tent.