MCBA Partners with Cannabis Conference for 3rd Annual Diversity Scholarship Program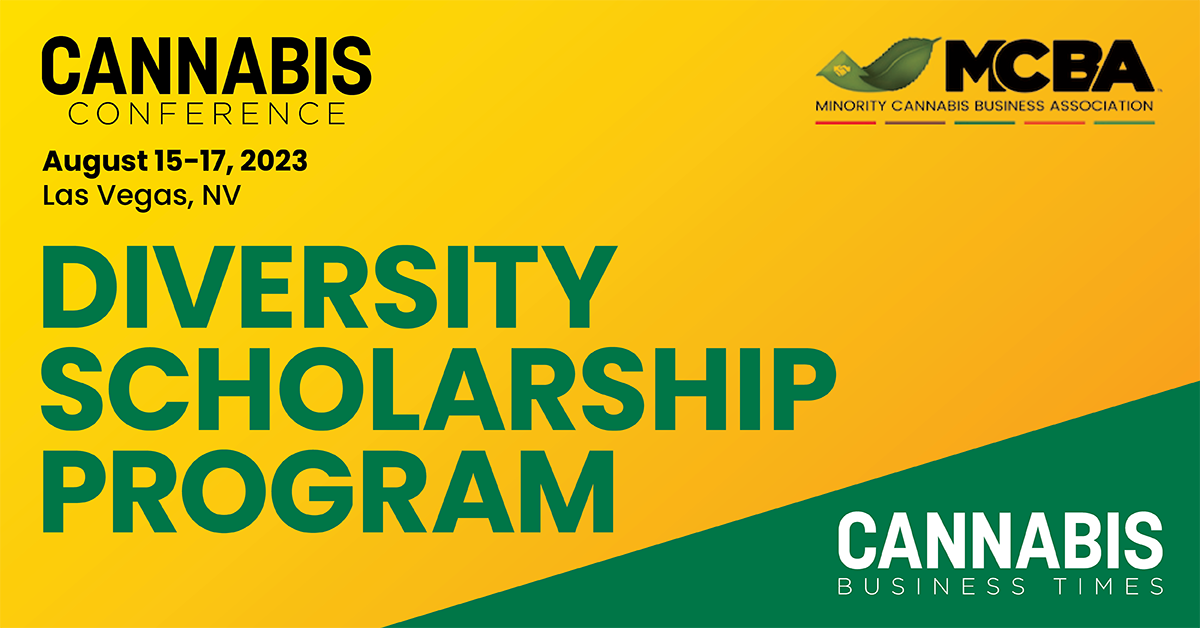 LAS VEGAS, Nev. (Feb. 8, 2022) – Cannabis Conference, the cannabis industry's leading educational event for plant-touching businesses, has announced it is continuing its partnership with the Minority Cannabis Business Association (MCBA) to launch its 3rd annual Cannabis Conference Diversity Scholarship Program to promote equality and diversity in the cannabis industry and to provide prospective and current minority entrepreneurs with educational opportunities and resources to help grow their businesses.
The program will provide 20 selected MCBA members with complimentary All-Access Passes to Cannabis Conference 2023, happening Aug. 15-17, 2023, at the Paris Las Vegas Hotel & Casino, to allow them to network and learn from industry experts. Cannabis Conference, produced by the award-winning media brand Cannabis Business Times, will bring together 3,000+ prospective and industry-leading cannabis cultivators, retailers, extraction professionals and brands, as well as university professors, consultants, and technology and solutions providers for two days of education, networking and an 85,000-square-foot expo hall.
In addition to the All-Access Passes, Cannabis Conference will provide 20% off registration to all MCBA members.
The Cannabis Conference Diversity Scholarship Program is part of the Cannabis Business Times' and Cannabis Conference's 'Game Changer' MCBA membership, totaling nearly $100,000 in support. In addition to the scholarship program, Cannabis Business Times will provide print and digital MCBA-related promotions to support the organization's efforts to serve the specific needs of minority cannabis entrepreneurs and their communities.
"We are so pleased to partner again with MCBA to provide not only scholarships to Cannabis Conference but also promotional support to help raise awareness about the great work that MCBA is doing to serve the needs of minority cannabis entrepreneurs," said Noelle Skodzinski, editorial director of Cannabis Conference and Cannabis Business Times. "The war on drugs has had a disproportionate impact on minority communities, and it is vital to address this and work to support diversity and equality within the industry."
"At MCBA, we believe that diversity drives innovation, creativity and equity. That's why we're thrilled to once again partner with Cannabis Business Times and Cannabis Conference on the annual Diversity Scholarship Program, aimed at supporting underrepresented entrepreneurs in the cannabis industry," said Kaliko Castille, MCBA Board President. "With this initiative, we hope to provide opportunities for talented individuals to further their education and careers, fostering a more inclusive and dynamic industry for all."
Diversity Scholarship Program applications are now open. (Passes will be allocated at the discretion of MCBA.) Click here to apply.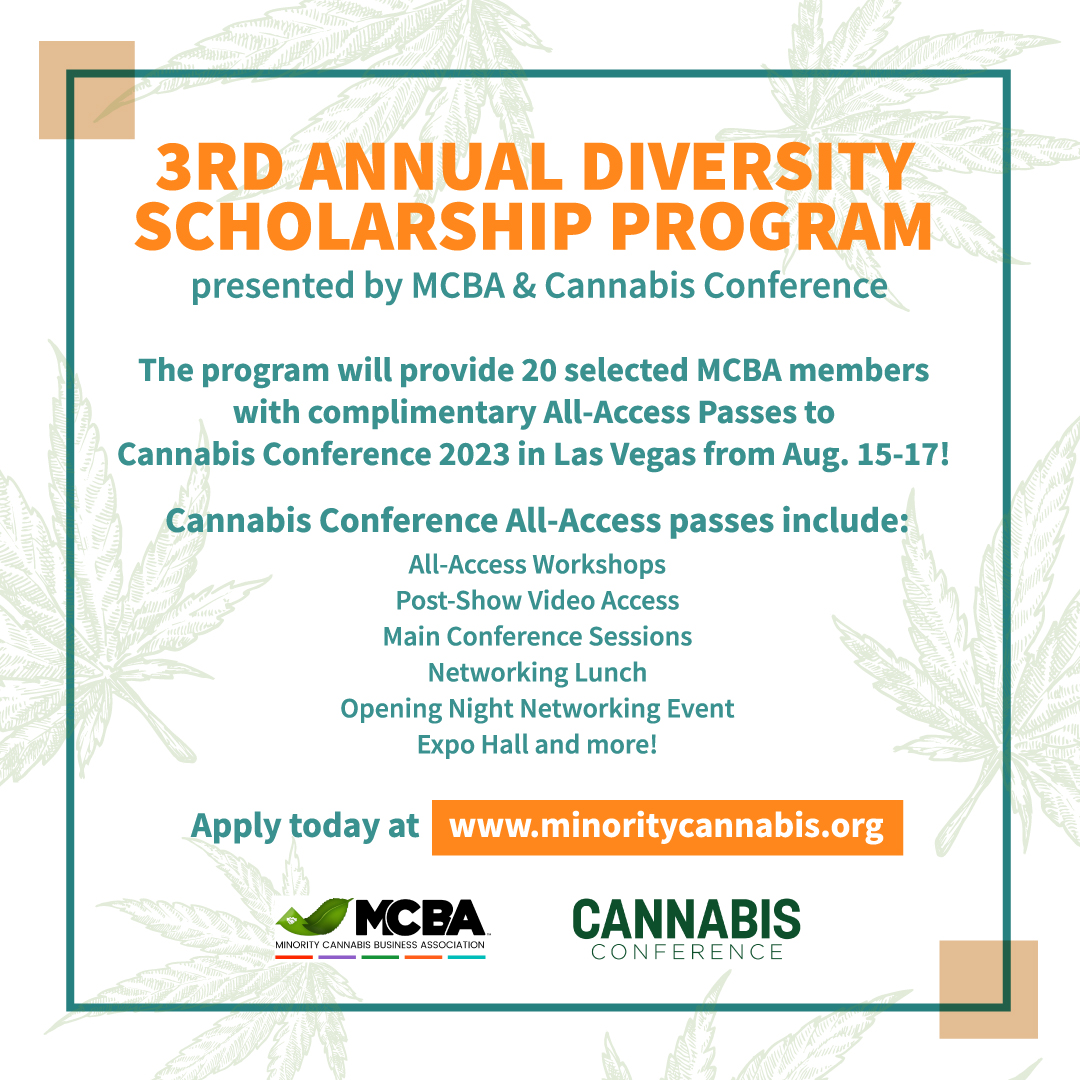 About Cannabis Conference
Cannabis Conference, presented by award-winning media brand Cannabis Business Times, is the leading educational provider for plant-touching businesses in the legal cannabis markets. Now in its seventh year, the three-day event will take place at Paris Las Vegas Hotel & Casino in Las Vegas, Nev., Aug. 15-17, 2023, and will feature a new Cultivation Roundtable event for growers, as well as daylong workshops on how to launch a cultivation business and dispensary. The Cannabis Conference exhibition hall will feature 200+ industry-leading technologies, solutions and services for the professional cannabis cultivator and retail businesses. For more information, visit www.CannabisConference.com.
About Cannabis Business Times
Cannabis Business Times is owned by GIE Media, based in Valley View, Ohio. CBT's mission is to help accelerate the success of legal cannabis cultivators by providing actionable intelligence in all aspects of the business, from expert advice on cultivation, financial topics, legal issues and legislation to regulation and compliance news, analysis of industry trends, and more.
CBT provides the most relevant industry information—through its website, e-newsletter, mobile app, print magazine and annual conference—to help the reader make timely, informed decisions to help them run their businesses better and more profitably. In 2018, Cannabis Business Times was named Magazine of the Year by the American Society of Business Publication Editors (ASBPE), and its editorial team has won numerous ASBPE, and Eddie and Ozzie awards.
About Minority Cannabis Business Association
Founded in 2015, the Minority Cannabis Business Association (MCBA) is the largest national trade association dedicated to serving the needs of minority cannabis businesses and our communities. MCBA represents more than 300 minority and allied cannabis businesses and industry and community leaders who share a vision for an equitable, just, and responsible cannabis industry. Our mission is carried out by a 15-member Board of Directors composed of a diverse group of industry veterans, medical and legal professionals, advocates and community leaders. Learn more at: www.minoritycannabis.org.