Minority Cannabis Business Association Applauds House Leadership for Critical Changes to the MORE Act and Continued Commitment to Cannabis Equity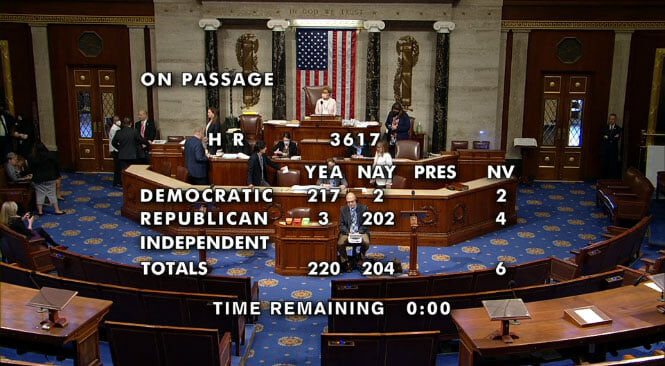 The United States House of Representatives for the second time passed the Marijuana Opportunity Reinvestment and Expungement Act (MORE Act), (220-204) voting to end federal cannabis prohibition, promote equity, and help restore the harm done to the individuals and communities most impacted by prohibition. The vote represents a powerful commitment to equity in federal cannabis policy at a time republican congressional leaders seek to take ownership of cannabis legalization–an issue supported by 70% of American voters–with legalization proposals that fail to address, or even recognize the harms of the Federal Government's war on cannabis on communities of color. 
"This is the type of progress we hope will be a precursor to ending federal prohibition. The MORE Act passing the House for the second time represents our congressional leaders' unwavering commitment to ensuring equity stands as the cornerstone of federal cannabis reform," said Amber Littlejohn, Executive Director of the Minority Cannabis Business Association (MCBA). "We are grateful to House Leadership, including House Judiciary Committee Chairman Jerry Nadler, along with Cannabis Caucus co-Chairs Earl Blumenauer and Barbara Lee, House Democratic Caucus Chairman Hakeem Jeffries, House Ways & Means Committee Chairman Richard Neal, House Small Business Committee Chairwoman Nydia Velázquez, and their tireless staff members, for their commitment to the minority cannabis business community and ensuring economic justice is part of each step in building a just and equitable cannabis industry."
The bill includes critical amendments from the previous version which passed in the House in December 2020 in a 228-164 vote. The new version of the bill removed the exclusion of individuals with felony cannabis arrests or convictions from owning, leading, or investing in the federally regulated cannabis industry, and removed the requirement to obtain and develop a premise simply to apply for a federal cannabis operator's permit. Such requirements have led to devastating personal and systemic consequences for social equity programs and applicants that face significant funding challenges prior to obtaining a license (See MCBA National Equity Report). 
"We are grateful for the changes to the MORE Act and are excited to stand with congressional leaders and the advocates including the Marijuana Justice Coalition and reinforce the imperative that federal cannabis reform be rooted in equity and justice," said Kaliko Castille, MCBA Board President.
MCBA will continue to seek economic justice for those who have been deprived of basic rights and opportunities afforded to most Americans due to the unjust enactment and enforcement of cannabis laws and ensure that the needs of minority cannabis business owners and our communities are represented in all aspects of federal cannabis policy. We look forward to the continued opportunity to work with House Leadership to drive equitable federal cannabis policy.