Minority Cannabis Business Association Elects New Members To Board of Directors, Including New President and Vice President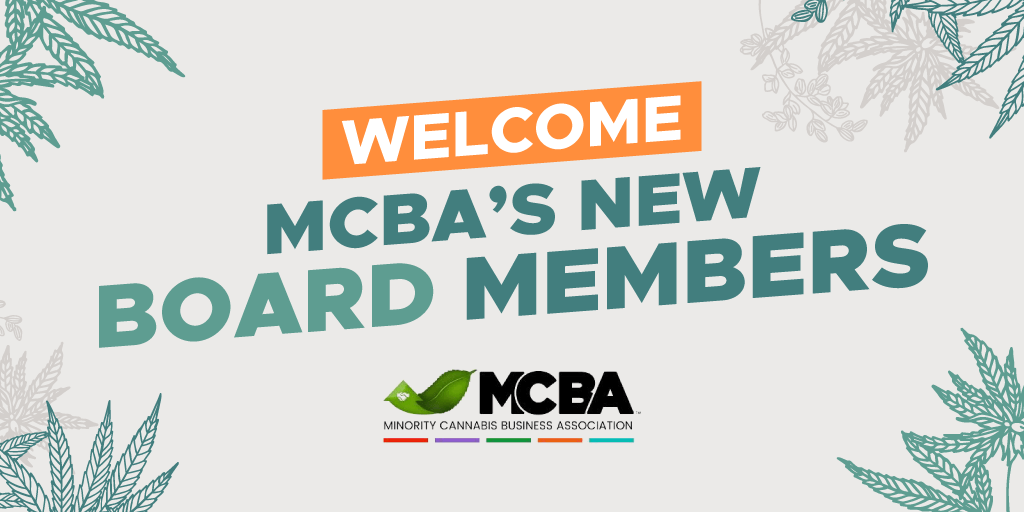 For Immediate Release:
May 11, 2021
CONTACT:
Amber Littlejohn, Executive Director – amber@minoritycannabis.org 
Kaliko Castille, President – kaliko@minoritycannabis.org
MINORITY CANNABIS BUSINESS ASSOCIATION ELECTS NEW MEMBERS TO BOARD OF DIRECTORS, INCLUDING NEW PRESIDENT AND VICE PRESIDENT
WASHINGTON D.C. — Last month members of the Board of Directors for Minority Cannabis Business Association (MCBA), the largest trade association dedicated to serving the needs of minority cannabis businesses and minority communities held their annual election to fill four open board seats and elect its board officers.
New board members include; Mario Guzman, owner of cannabis brand Sherbinskis who is best known as the breeder behind legendary strains such as Sunset Sherbert and Gelato; Cedric Haynes, who currently serves as Director of Emerging Marketplaces for WeedMaps; Willie Mack, a brand marketing executive who has worked for clients including Absolut Vodka, Estee Lauder, GQ, Microsoft, Obama Administration, Vanity Fair, and Wired Magazine. He now serves as CEO and Co-Founder of Think BIG and Frank White; and Kika Keith Founder and CEO of Life Development Group, and Co-Founder and President of Social Equity Owners and Workers Association.
"I could not be more proud to represent minorities in the cannabis space. It's always been in my heart to help people, now I have a tribe of like-minded people that I can join arms with and help make much-needed changes in our community. Thank you MCBA for the honor of being able to serve on this board," said MCBA Board Member Mario Guzman
"It's an honor and privilege to serve on the MCBA Board of Directors, and I'm excited to offer my public policy experience in furtherance of the mission. I look forward to  working with MCBA leadership, staff, members, and partners to create equal access for minority-owned cannabis businesses and advance economic empowerment for communities of color," said MCBA Board Member Cedric Haynes
"The team at MCBA has been vital to Think BIG"s education around cannabis legalization. I am grateful and honored to be joining the Board as it t will allow me to continue as a resource and representative of the Black and Queer communities fight for cannabis industry access, funding, and legalization," said MCBA Board Member Willie Mack.
In addition to adding four new board members, MCBA's board also elected industry veteran and Co-Founder of ThndrStrm Strategies, Kaliko Castille as its President and Jazmin Aguiar, President of The Working Group as its Vice-President.
"I'm humbled to have been given this tremendous responsibility at such a critical time and I'm committed to making sure that our industry and our elected officials understand the historical importance of creating an equitable and inclusive industry. I'm proud of the work MCBA has done to lead this conversation and look forward to helping bring an end to federal prohibition in a way that begins to repair the very real damage done to black and brown communities by cannabis prohibition," Castille said.
###
You can find a link to headshots and logos for the new board members and their associated brands 
here
.