Minority Cannabis Business Association (MCBA) Announce Partnership with Green Flower to Provide Members with Free Cannabis Training Courses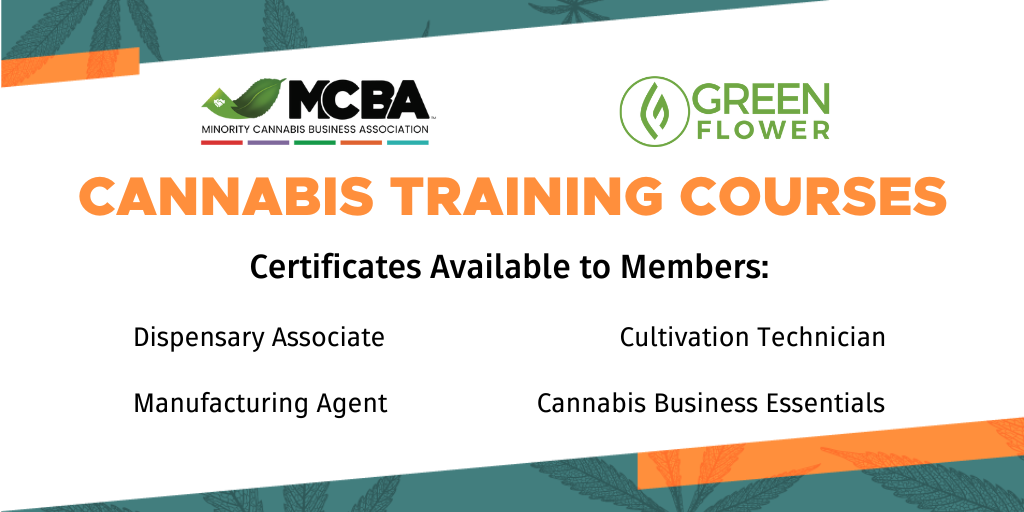 Minority Cannabis Business Association (MCBA) is excited to announce a new partnership with Green Flower to provide members with free cannabis training courses to accelerate their opportunities in the cannabis industry. Green Flower is a comprehensive, on-demand training platform, built specifically for cannabis professionals, and is trusted by individuals, companies, governments, and higher education institutions who are driving the industry forward. Green Flower will offer MCBA members four on-demand Certificate programs including retail, cultivation, manufacturing and cannabis business essentials.
"The cannabis industry is rapidly growing and creating new employment opportunities for a new generation of professionals. We are proud to work with Green Flower to prepare our members to take advantage of this educational training program that will prepare them to not only join the cannabis workforce, but to build their own successful businesses," said Kaliko Castille, MCBA Interim Executive Director.
Certificates offered through Green Flower's programs include: Dispensary Associate; Cultivation Technician; Manufacturing Agent; and Cannabis Business Essentials, covering key elements that are necessary for success in the highly competitive cannabis industry. When MCBA members complete the courses and earn these certificates, they automatically become members of GF Institute—the professional credentialing body dedicated to promoting the highest standards of professionalism, credibility, and equity in our industry.
The courses assume no prior knowledge of the industry and will explain the A to Z of Cannabis as a business opportunity. Each certificate takes approximately 16 hours to complete. To earn the certificate you must achieve a passing score of 70% on the final test.
"We are thrilled to partner with MCBA as they live their vision for an equitable, just, and responsible cannabis industry," said Max Simon, Green Flower's CEO and Co-Founder. "In order to create a truly fair and equitable cannabis industry, we must all do our part to support and empower communities that have been most impacted by the War on Drugs. MCBA is doing this on-the-ground, transformational work every day, and Green Flower is proud to offer our educational courses to play a small but important part in bringing about this change."
If you're an MCBA member, please sign up HERE for instructions on how to redeem your free Certificate programs or email samantha@minoritycannabis.org for more information.