Minority Cannabis Business Association (MCBA) Thanks Senate Banking Committee For Efforts Towards Equitable Banking Access, Urges Further Action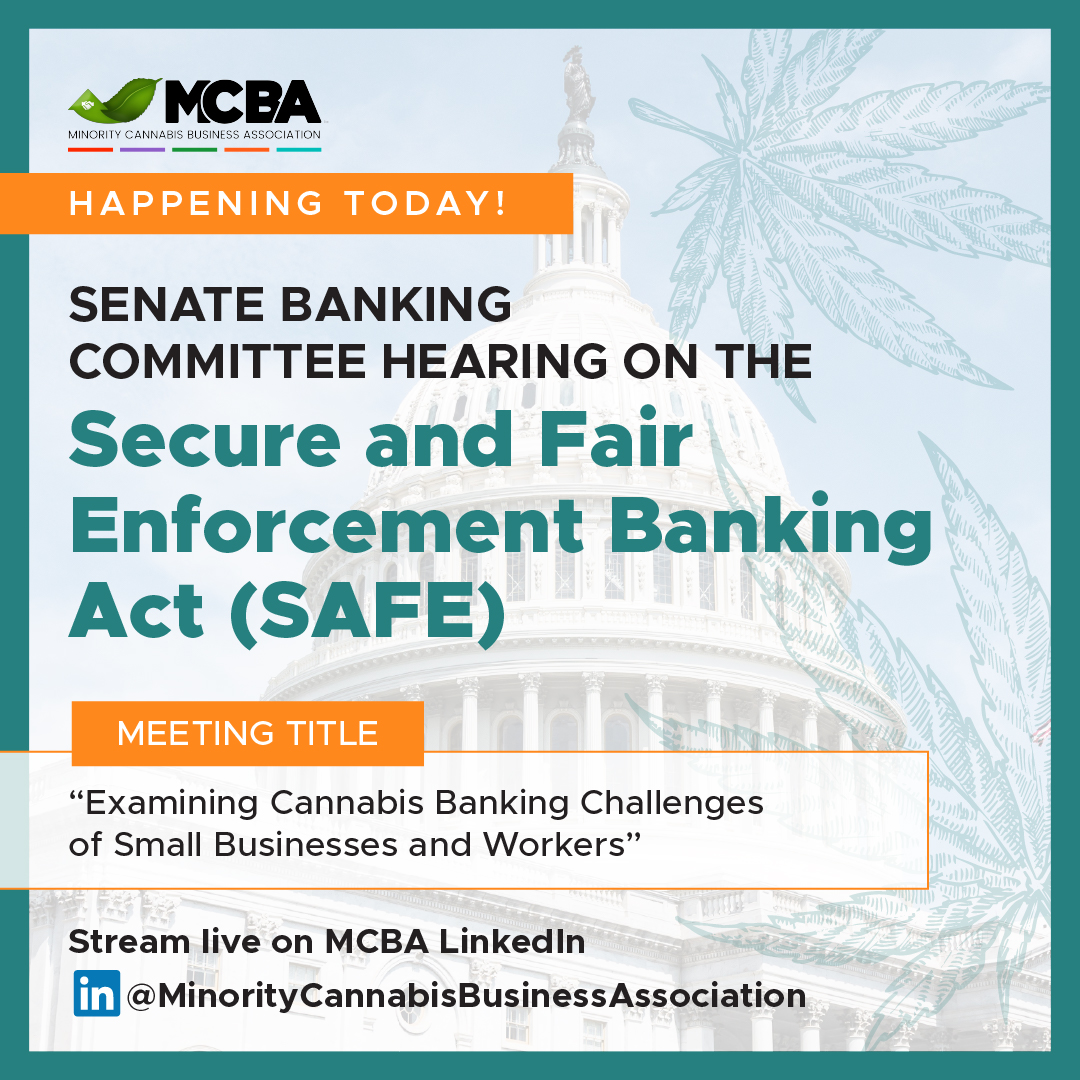 Inclusion of Community Development Financial Institutions (CDFIs) has been a major priority for MCBA over the last several years
WASHINGTON D.C. – The Minority Cannabis Business Association (MCBA) welcomes the progress made in today's Senate Banking Committee hearing, "Examining Cannabis Banking Challenges of Small Businesses and Workers." As an organization dedicated to promoting equity and inclusion in the cannabis industry, we consider this hearing a significant stride forward, particularly for minority cannabis operators.
The hearing demonstrated a clear recognition of the hurdles minority entrepreneurs face in accessing financial services within the cannabis sector. MCBA is encouraged by the substantial discussion among Senators about the benefits of including Community Development Financial Institutions (CDFIs) in the Secure and Fair Enforcement (SAFE) Banking Act. This alignment acknowledges the vital role that CDFIs play in promoting economic growth and the crucial need to incorporate this aspect into the legislation.
"MCBA has been tirelessly advocating for the inclusion of CDFIs, and we are proud to see these efforts reflected in the discourse at such a high legislative level. This inclusion will provide much-needed financial services to minority-owned cannabis businesses, further propelling equity in the industry," said MCBA Board President Kaliko Castille.
In addition to the CDFI inclusion, we continue to strongly support the incorporation of Small Business Administration (SBA) programs in the final bill. MCBA has been working to open access to these programs for the cannabis industry since 2018, and this addition would significantly boost access to capital for minority cannabis entrepreneurs.
MCBA also wants to thank Cat Packer of Drug Policy Alliance and Cannabis Regulators of Color Coalition for her testimony highlighting the need to amend FinCen guidance to remove cannabis related criminal convictions as red flags for financial regulators and we hope to see this change incorporated before final passage.
We are excited about the momentum this hearing has generated and eagerly anticipate the committee marking up the SAFE Banking Act soon. 
MCBA remains committed to collaborating with the Senate and House to ensure this bill crosses the finish line, with provisions that genuinely address the unique challenges of minority operators in the cannabis industry.
MCBA continues to extend its expertise and support in working towards a cannabis industry that offers opportunity and fairness for all.
###
About Minority Cannabis Business Association (MCBA)
Minority Cannabis Business Association (MCBA) is a non-profit organization dedicated to serving the specific needs of minority cannabis entrepreneurs, workers, and patients/consumers. Our mission is to create equal access for cannabis businesses and economically empower communities of color through policy, programming, and outreach initiatives to achieve equity for the communities most impacted by the War on Drugs.