MCBA President Shanita Penny to testify before congress in support of access to Small Business Administration by Cannabis Businesses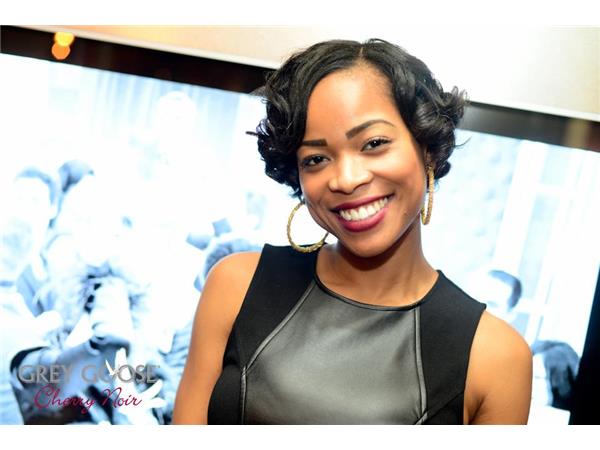 For immediate release: MCBA President Shanita Penny to testify before congress in support of access to Small Business Administration by Cannabis Businesses
Primary Press Contact: Amber Littlejohn, MCBA Policy Director
202-769-9970, amber@minoritycannabis.org
Secondary Press contact, Jason Ortiz MCBA Vice President
860-639-8101, jason@minoritycannabis.org

"The undeniable effects of the drug war are hampering equity in the industry,but together, we can address and repair the harms caused by discriminatory enforcement of marijuana laws and ensure access to and diversity in the emerging legal cannabis industry."  Shanita Penny, MCBA President
Washington, D.C – June 19, 2018 – Washington, D.C.— Today at 11:30 A.M., the full Committee will meet for a hearing to examine the role of small businesses in the cannabis sector. Currently, medical cannabis use is legal in a majority of states, while nearly a dozen have legalized recreational use for adults. Full text of Shanita Penny's testimony here.
A livestream will be available here. More information can be found here.
WHAT:     Hearing: "Unlocked Potential? Small Businesses in the Cannabis Industry."
WHEN:     Wednesday, June 19, 2019 at 11:30 A.M.
WHERE:      House Small Business Committee Hearing Room
                    2360 Rayburn House Office Building
WHO:            Chairwoman Nydia M. Velázquez (D-NY)
                      Members of the House Small Business Committee
          Witnesses:
Ms. Shanita Penny, President of the Board of Directors, Minority Cannabis Business

Association, Portland, OR

Mr. Eric Goepel, Founder & CEO, Veterans Cannabis Coalition, Walnut, CA

Ms. Dana Chaves, Senior Vice President and Director of Specialty Banking, City, FL

Mr. Paul Larkin, John, Barbara, and Victoria Rumpel Senior Legal Research Fellow in the Meese Center for Legal and Judicial Studies, Washington, DC
About the Minority Cannabis Business Association
Founded in 2015, the Minority Cannabis Business Association (MCBA) is the first 501(c)(6) not for profit business league created to serve the specific needs of minority cannabis entrepreneurs, workers, and patients/consumers. The MCBA represents more than 700 minority owned businesses, entrepreneurs, and patients from across the United States. Its 12-member board of directors is comprised of a diverse group of medical and legal professionals, cannabis industry veterans, and social advocates  from across the U.S. You can find more information about us at www.minoritycannabis.org.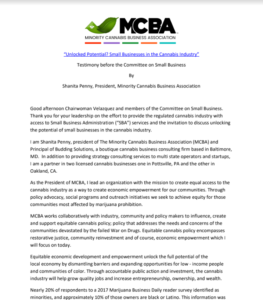 Full text of Shanita Penny's testimony here.