MCBA Board Elections: Lead the Charge for an Equitable Cannabis Industry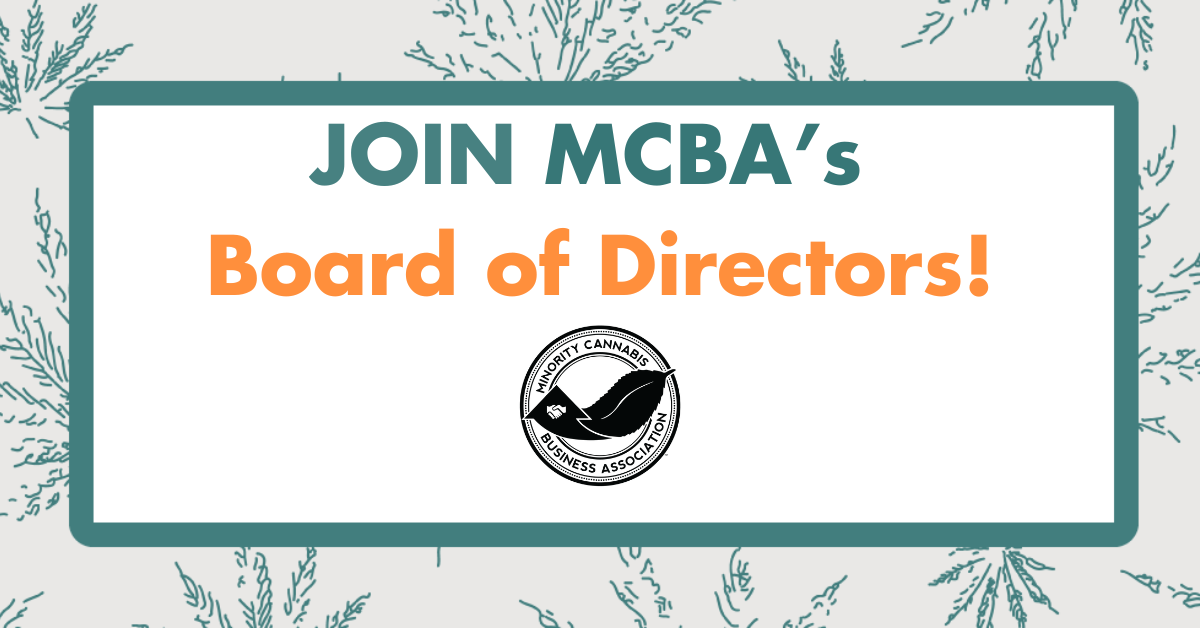 MCBA Board Elections: Lead the Charge for an Equitable Cannabis Industry
A Legacy of Leadership
The Minority Cannabis Business Association (MCBA) has long been the leading policy voice for an equitable cannabis industry. Since our inception, we've advocated for inclusive policies and economic empowerment, not just as an organization but through the influence of our exceptional board members. 
Many of our past board members have moved on to run successful companies and emerge as pillars in the cannabis community. 
This fall, you have the opportunity to join their ranks as we hold elections for our 2023-2024 Board of Directors.
Who Are We Looking For?
We invite dynamic individuals who resonate with our mission to apply.
Specifically, we are looking for:
Cannabis Industry Leaders of Color:

Be a voice for your community in shaping the future of cannabis.

Cannabis Licensees:

Retail, cultivation, manufacturing, distribution—you name it. We need your operational insights.

Political Organizers:

Bring your expertise in rallying communities and influencing policy.

Fundraisers:

Help us secure the resources we need to grow and make a difference.
2023-2024 MCBA Board Expectations
If elected, board members will be expected to:
Attend Monthly Board Meetings:

Dedicate at least 2 hours per month for board meetings.

Volunteer Additional Time:

Expect to contribute an additional 10+ hours per month to the organization.

Fundraising:

Assist MCBA in securing the resources necessary for us to execute our mission.

Media Representation:

Represent MCBA in media appearances, amplifying our cause and initiatives.
Why Serve on the MCBA Board?
Networking:

Build valuable relationships with industry leaders and policy-makers.

Impact:

Have a direct say in policies that shape an equitable cannabis industry.

Legacy:

Follow in the footsteps of past board members who have gone on to become industry titans.

Skill Development:

Gain experience in leadership, governance, and policy advocacy.
Ready to lead? Applications for board positions will are OPEN NOW.
Click here for application details and instructions.

Together, let's continue to be the leading voice for an equitable, diverse, and empowered cannabis industry. We look forward to welcoming our new board members and collectively shaping a brighter future for cannabis.